New 340gsm Premium photo paper for inkjet printers with microporous super glossy surface!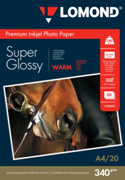 Range of Lomond inkjet printers with microporous surface has been extended by new 340 gsm material.
This material present at the moment the heaviest photo paper of Lomond Premium photo papers range.
Lomond Premium photo papers are designed for high quality inkjet photo printing. Base paper sandwiched with polyethylene makes the paper resistant to cockling.This is especially important when printing images which require a lot of ink. Moreover a special microporous coating provides the highest print quality (with intensive colour and sharp contrasts).The ink is immediately absorbed and dries instantly.
A4, 20 sheets, code 1100301
Share on Facebook